Whitefish Winter Carnival
Celebrate Winter, Whitefish Style
On the first weekend of February, festivities kick off with a Penguin Plunge (a hole is cut into Whitefish Lake and participants take a dip to raise funds for charity), then include a grand parade, snow sculpture contest, a kiddie carnival, pie social, beer barter, Rotary pancake breakfast, Art Expo and more. The festivities are open to the public and most are free of charge.
And the story goes…….Once upon a time, there lived a god named Ullr who reigned over the winter activities in the Nordic regions. Aiding him were his Prime Minister and Queen, who were skilled in creating the beauties of winter. But as time went by, his subjects became more engrossed in exploring the world and its oceans and paid less homage to their god-king and the festivities of their winter season, so Ullr became a god all but forgotten except in dim tradition.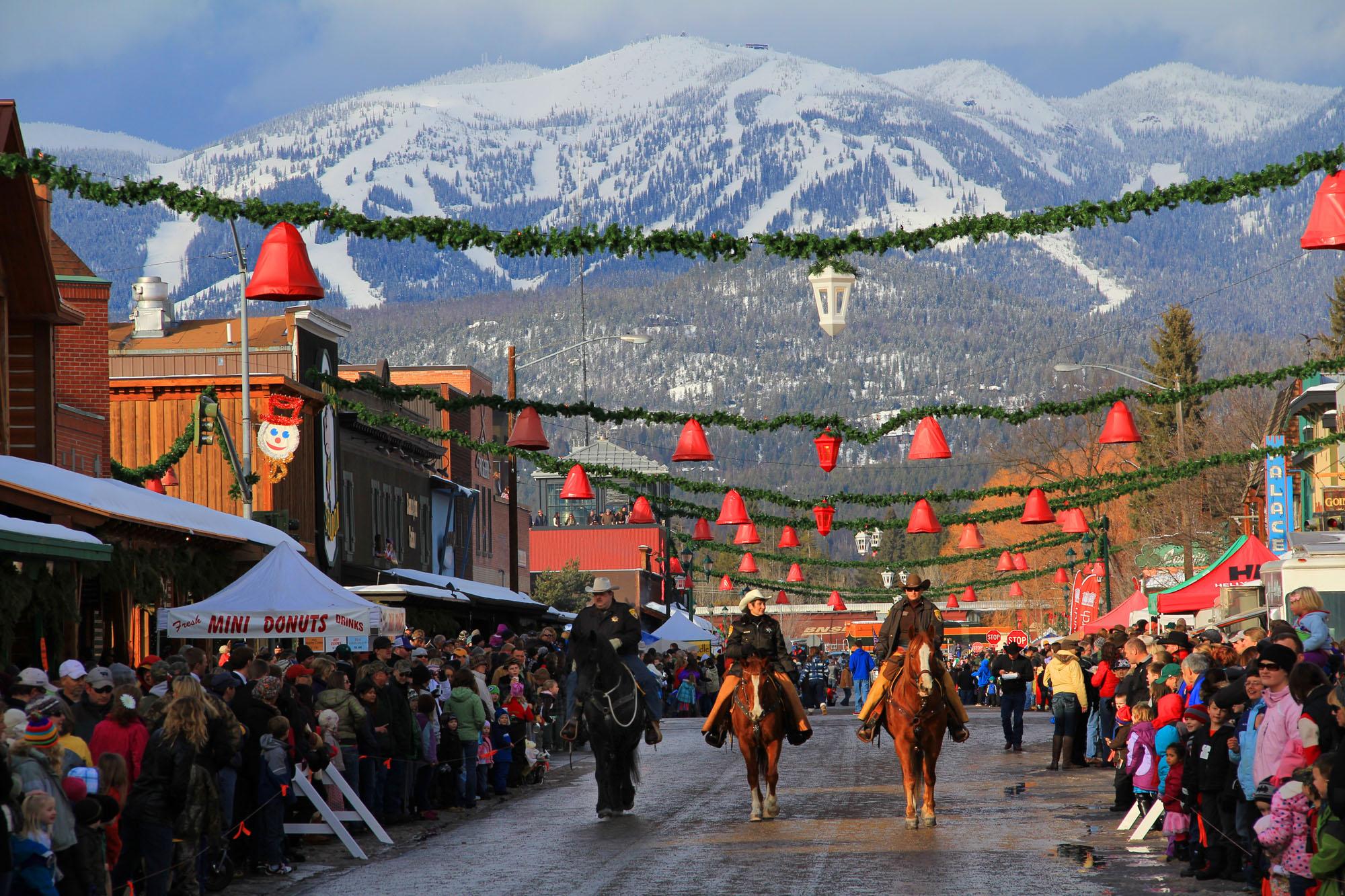 After centuries of brooding and searching the world for a place of rest, Ullr and his two remaining subjects came to northwest Montana. So struck were they with its beauty that they decided to settle and selected the Big Mountain, looming over Whitefish, as their adopted home. Their rest was short lived as they soon found their home was also the abode of a fierce band of snowmen called Yetis, who attempted to kidnap their Queen. Ullr and his followers, being more agile and resourceful, prevailed and learned to live with only occasional skirmishes with the Yetis.
Eventually humans invaded the Whitefish area with axes, guns and wagons. Ullr, his followers, and the Yetis observed these people as they civilized the valley and some were alarmed when they saw people begin to invade what they called home. Ullr found these settlers were not aware of his presence and as he continued to observe them, he found that they not only enjoyed the sports of winter but also referred to Ullr himself as a patron saint of their small celebrations and revelries. He was honored by this reverence.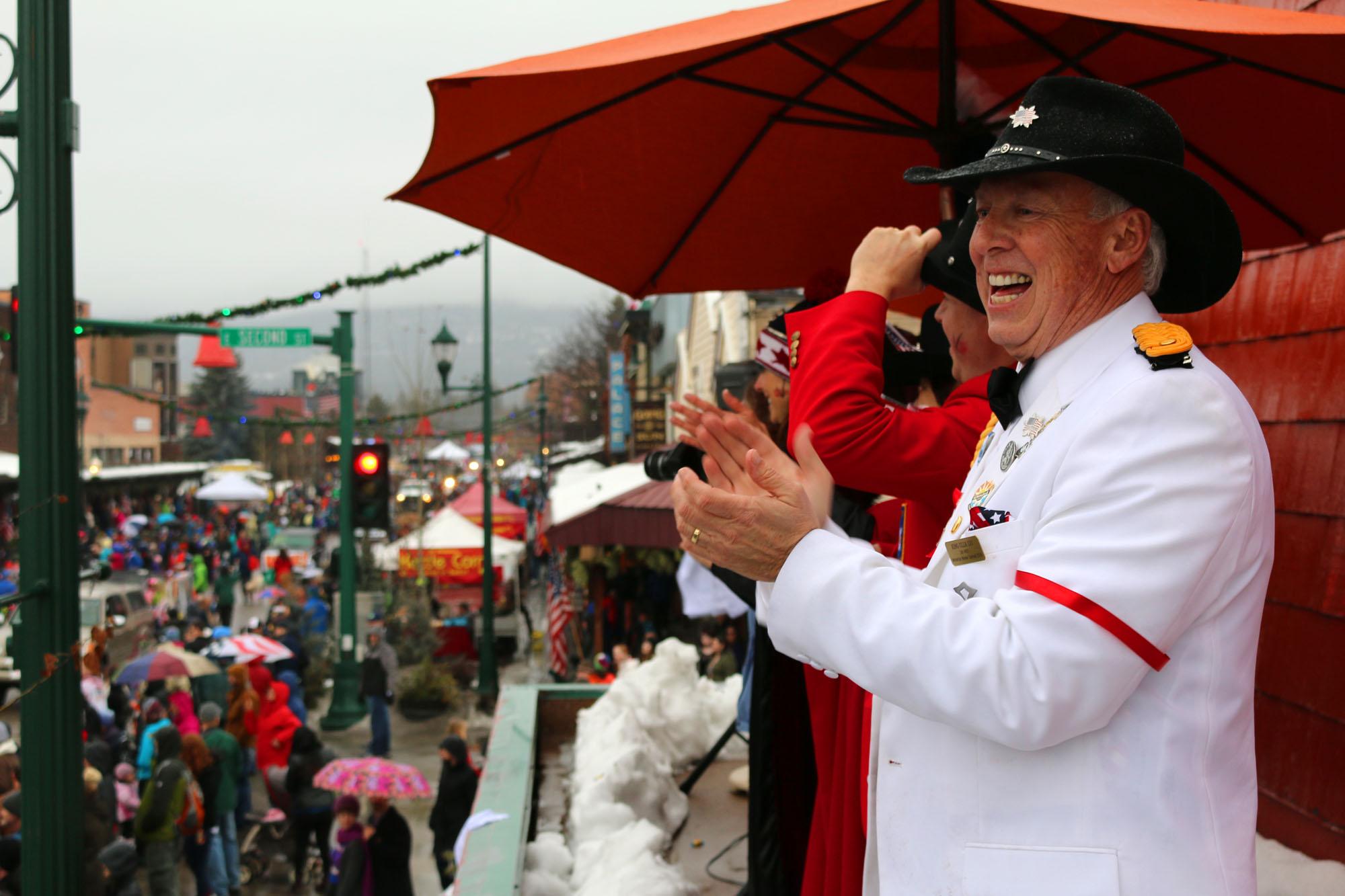 Seeing his chance after centuries of loneliness and self-banishment, Ullr assumed the garb of these people and went among them. The Yetis, however, would have nothing to do with these people except for attempts to drive them away. Ullr aided the settlers in subduing the harassments of Yetis and became their hero and true King. It was proclaimed that there would be an annual fete at which King Ullr and his court would be given the homage due to them, a celebration called the Whitefish Winter Carnival.
Now each year, on the first weekend of February, the town of Whitefish comes together and invites people from miles around to celebrate winter with a variety of activities, events and merriment. The Yetis, bolder than ever, try to steal the Queen, harass the Prime Minister, and interfere with the festivities to assert their right to Big Mountain and Whitefish. But Ullr, and his growing band of local followers continue to subdue them and send them fleeing back to their haven in the high valleys beyond Big Mountain. And Ullr again reigns as master of winter sports and frolics along with his Queen and Prime Minister, beloved in the hearts of his loyal subjects.
The 2020 Whitefish Winter Carnival will take place February 7-9, 2020. For more info, visit: whitefishwintercarnival.com