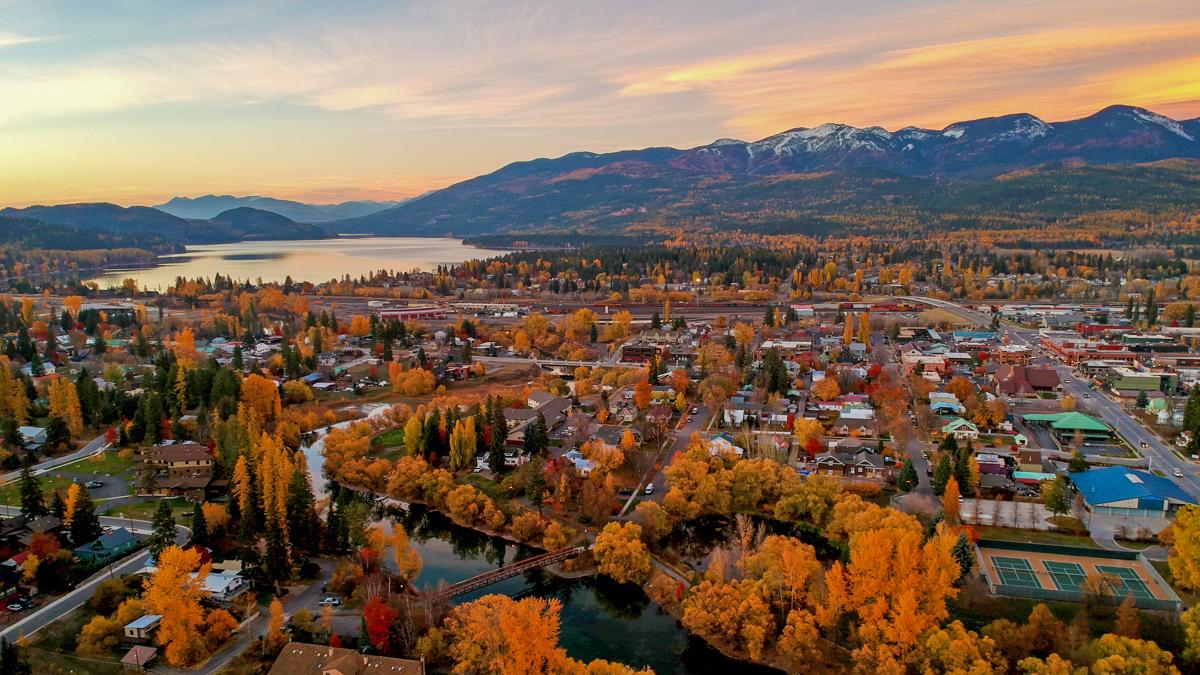 What is Explore Whitefish?
Established by the City of Whitefish, Explore Whitefish is the officially designated organization charged with destination marketing and stewardship of Whitefish, also known as the Whitefish Convention & Visitors Bureau. The organization also provides critical support for visitor information services, travel infrastructure development, market research, community resources, and public relations.
Our Explore Whitefish team and board is made up of long-time residents who live and breathe the well-being of this community. We all want to find a good balance and preserve our community's livability and character. We are working hard every day to protect Whitefish, integrating sustainability into all our efforts.
What do you do?
We strive to be a leading destination steward dedicated to sustainable tourism, balancing our economic and community sustainability while protecting our natural environment.
What is your overall strategy?
We wish to sustainably maintain the economy of Whitefish by emphasizing its desirability as a travel and recreation destination outside the summer months to non-resident visitors who appreciate and respect the character of the place. This specifically prioritizes increasing the occupancy for lodging facilities during lower occupancy times of the year.
We recognize the strain that too much visitation places upon our town, especially with overcrowding in the summer months. As such, Explore Whitefish does not promote summer visitation and supports business strategies that emphasize economic and social benefits to our community while maintaining the integrity of place and quality of life of local residents.
This recent story in the Flathead Beacon ("From Destination Marketing to Destination Stewardship") discusses the shift with our local and regional partners in tourism.
How are you funded?
Explore Whitefish is a 501c6 membership based non-profit organization. Our member businesses pay a membership fee that varies, depending on the type of business. Retail businesses pay a flat yearly retail membership rate. Lodging, restaurants, and transporation member businesses collect a voluntary 1% fee, currently know as the Community Sustainability Fund (CSF). Explore Whitefish also receives a small portion of the Montana Lodging Facility Use Tax (Bed Tax).
There are currently over 130 business members who participate in the WCVB, either by assessing the 1% fee or paying a flat retail membership rate.
Explore Whitefish does NOT receive any funds from the City of Whitefish Resort Tax. However, we do support the Resort Tax mission to help with property tax relief, street improvements, parks and bike paths, and Whitefish Trail maintenance.
What is the 1% Community Sustainability Fund?
A 1% fee, currently known as the Community Sustainability Fund (CSF), is added to lodging, restaurants, and transportation receipts by member businesses. The 1% CSF fee is a voluntary contribution to support our programs that balance economic and community sustainability in Whitefish while maintaining the integrity of our town and the quality of life for local residents. Some communities in Montana have implemented Business Improvement Districts, which place a mandatory tax on lodging for the same purpose. Explore Whitefish decided to make the 1% voluntary, giving local businesses the choice of participating in the assessment.
These funds support vital destination programs including our affordable housing partnership with Housing Whitefish. Housing Whitefish is a local non-profit organization that advocates, creates and plans for a sustainable supply of housing in our community. Explore Whitefish allocates 50% of all CSF contributions collected from our restaurant business members to Housing Whitefish. Additionally, our CSF funds support vital programs related to Sustainable Tourism Management and Visitor Education, with includes the Whitefish Sustainable Tourism Management Plan, "Friend of the Fish" visitor education campaign, crisis communications, Protect Our Winters and also supports education and inspiration initiatives for seasons when visitation is lowest, redirecting potential travelers away from summer peak season.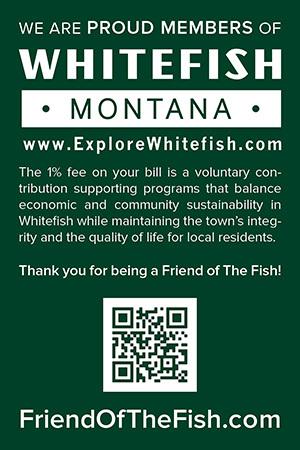 What are you doing to mitigate the current impacts of the pandemic and increased visitation?
Although the full impact of this global pandemic is yet to be determined, Explore Whitefish has been working on both short and long-term impacts. At the start of the pandemic, we constructed messaging around health, safety, and empathy for our local community in partnership with the City of Whitefish, letting visitors know it was not a good time to travel to Whitefish. Examples of this local partnership can be seen at friendofthefish.com as well as the City of Whitefish YouTube Channel.
Our longer-term focus for visitors is to promote responsible and sustainable travel and recreation. Our "Be a Friend of the Fish" campaign asks travelers to take care of our townspeople with messages like slow down, show respect, and leave no trace. We ask visitors to plan ahead, be patient, and recreate responsibly. The work we do is asking people to be more than just a consumer of Whitefish. We ask that they be stewards.
Are you just in reaction mode right now for sustainability efforts?
We are continuing a proactive stance in the area of sustainability. Over the past several years, Explore Whitefish, Whitefish stakeholders, and engaged community members have participated in a robust dialogue around sustainability and how it can be incorporated into destination marketing efforts. That dialogue preceded the pandemic with the formation of the Sustainable Tourism Management Committee in 2018, but the experience of the past few years has created an acceleration of trends that were already putting Whitefish under significant pressure and also accelerated our transition to destination stewardship.
Our current situation is not unique to Whitefish, as mountain towns all across the West are experiencing record visitation and a new influx of residents. While we are powerless to reverse these global trends, we are taking action in the areas we can influence. The Sustainable Tourism Management Committee is working with the city to manage the peak season, while also being thoughtful about bolstering the low months of visitation with travel from mindful visitors who add to the fabric of Whitefish. The full plan can be read at SustainableWhitefish.com. We are fully committed to the implementation of the plan and the 1% local assessment helps support action items for sustainability.
What type of travelers do you try to attract?
Whitefish is thoughtful about the type of traveler who will play well here, and only markets to experientially conscious travelers. These visitors respect the natural environment, culture, heritage, landmarks, and well-being of the people and places they visit. They seek engagement, knowledge, and adventure. They are connected, curious, mindful, and independent. They place a high value on authentic travel experiences that respect and support the local character of the place and its environment. Our approach to sustainability is appealing and differentiating to these travelers who we most hope to attract during the quieter months.
Why is town so much busier these days?
We have not added any new hotel rooms since 2018, but one threat to our town is the proliferation of short-term rentals (primarily offered through AirBNB and VRBO) that have more than doubled the room inventory. In 2014, we had 31 active short term rental listings. We now have more than 1,300 of these rentals within our zip code, averaging 2.6 bedrooms. On top of approximately 1,200 hotel rooms, these rentals add more cars to the roads and hurt our established local lodges and B&Bs who employ local workers and offer shuttles, reducing traffic congestion..
The sharp increase in short-term rentals has also caused a lack of resident housing, contributing to a workforce shortage because they eliminate leases for local residents who want to live and work here year-round. The Sustainable Tourism Management Committee is looking for better ways to limit the proliferation of these rentals that also drive up the price of purchasing a home by our local residents.
Things are busy enough. Why don't you just stop marketing Whitefish?
Many people don't realize that Explore Whitefish has not marketed the summer season in more than a decade. We all know it's too busy here in July and August and if we had a magic wand, we would turn the summer visitation nozzle down.
While we are crushed with visitors right now, many people also don't realize Whitefish hotels hover around or below 50% occupancy from October through April. That's why we only try to attract mindful travelers in the late fall, winter, and early spring.
While we need to look for ways to keep our quality of life healthy, we also need to continue to be careful not to become a hollowed-out, one-season, gateway town. We're living in unprecedented times and need to continue to be thoughtful about our approach, study the data, and avoid over-emotional reactions.
If we are truly going to be a sustainable community, we need consistent, year-round jobs to keep families employed. A seasonal economy has its own very real problems. No one wants Whitefish to become just another "resort" community where we have to ship in workers for high season and our town feels hollow. The character of Whitefish has always been defined by its local residents. Leadership and bold steps in the area of sustainability and visitation will protect our town for future generations of working families.
---
STRATEGIC PLAN
ANNUAL PLAN & BUDGET
Explore Whitefish Fiscal Year 2024 Annual Plan.

Annual plan and budget outlining the activities of Explore Whitefish as approved by Whitefish City Council on April 3, 2023