The Natural Beauty of the Cross-Country Ski Trails of Whitefish
Cross Country Skiing in Northwest Montana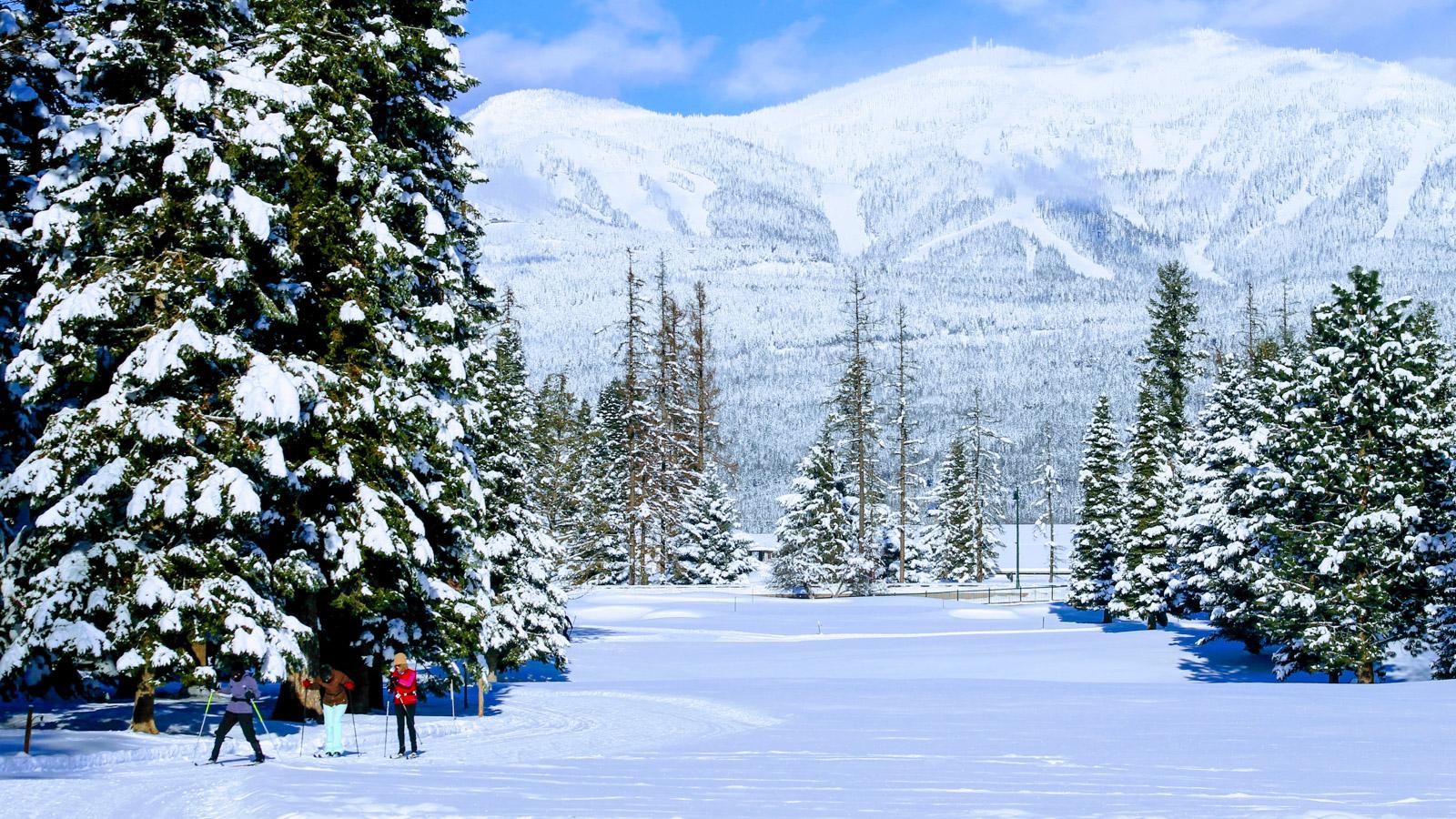 Whitefish is known for its amazing alpine skiing, but if cross-country skiing (also known as Nordic skiing) is more your thing, then Whitefish is the perfect place for you.
Whitefish is surrounded by a wide variety of trail systems for all abilities. If you want to get a good workout on your skate skis, head to the Glacier Nordic Club trails at the Big Mountain Trailhead or Whitefish Lake Golf Course. If you want to bring your four-legged friend along, the Round Meadow Ski Trails are your spot. If you want to experience the magic of Glacier National Park without the summer crowds, then you're in luck -- Glacier National Park is open 365 days a year and cross country skis are the perfect way to experience it in winter. Read on for more info about these and other trail networks around Whitefish.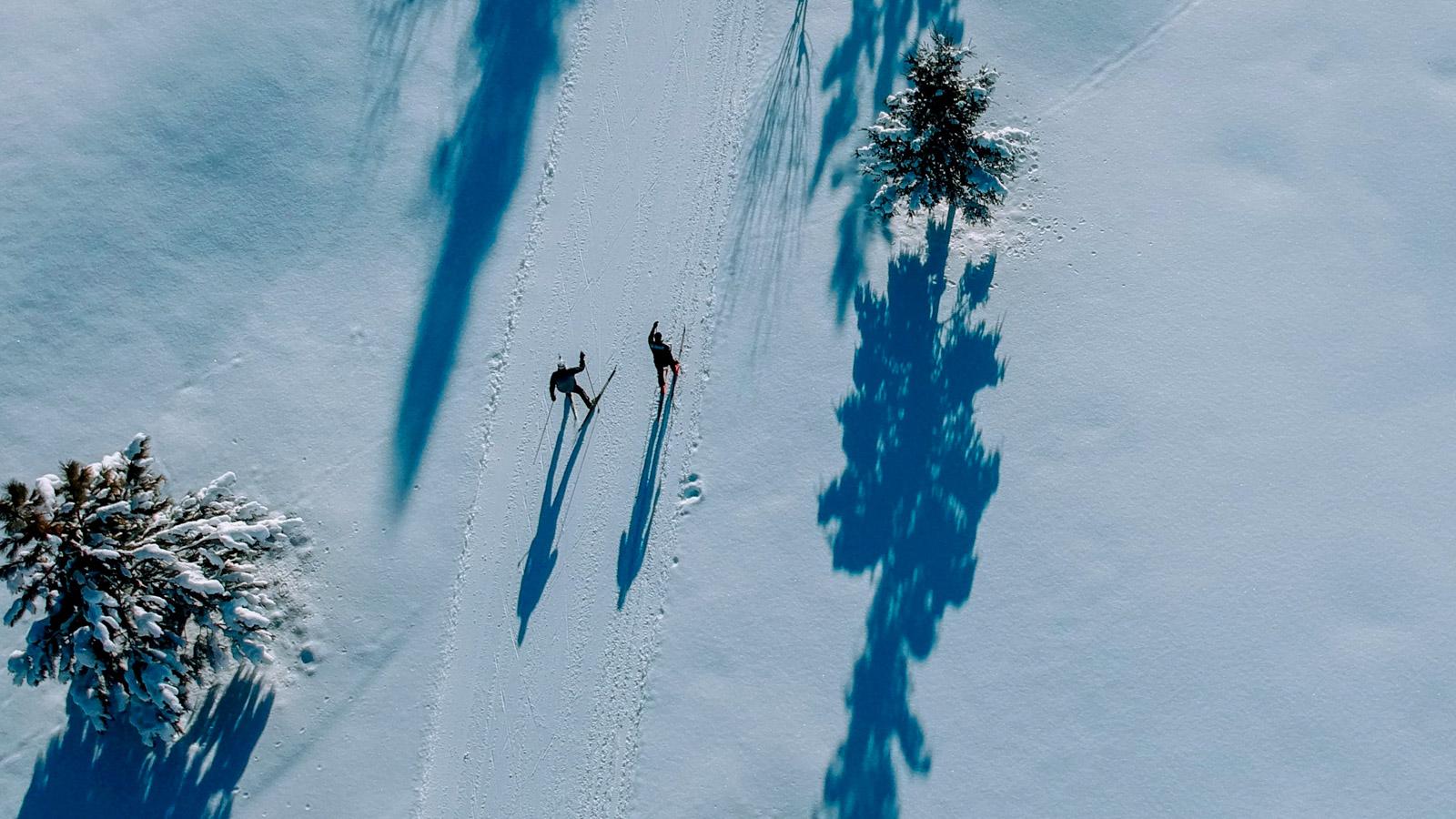 Glacier Nordic Center
Located at Whitefish Lake Golf Course just 1/2 mile from downtown Whitefish are 12 kilometers of Nordic trails. This track is groomed daily and set on rolling terrain for both classic and skate skiers. There are also 4km of trails illuminated for night skiing under the stars. Lessons and equipment are available at the site from the Glacier Nordic Shop, located at the trailhead (near the golf course parking lot).
Local's Tip: Head out here for skiing under the full moon. No trail pass is required after 3pm on full moon community ski nights.
---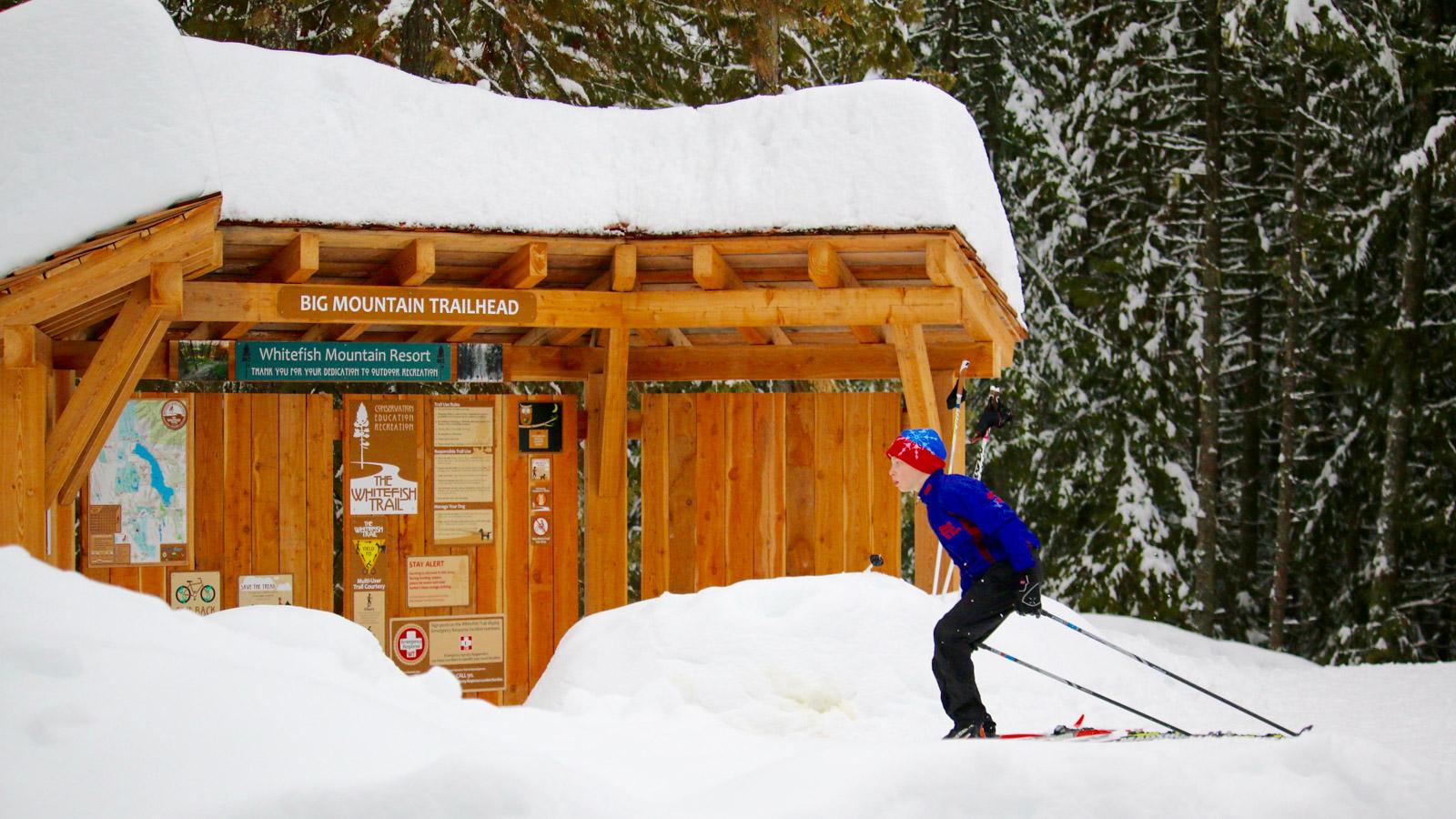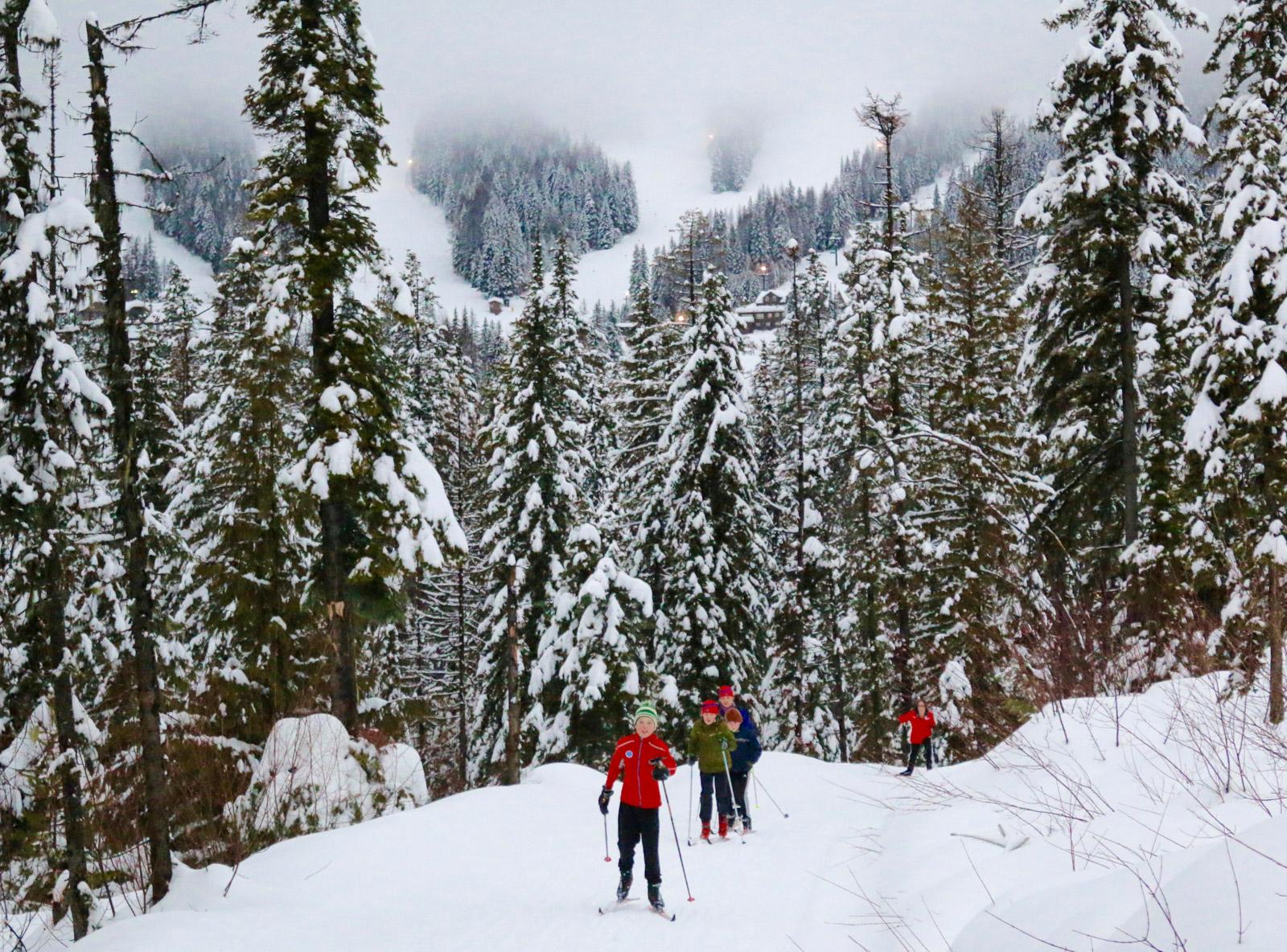 Big Mountain Nordic Trails
Just below Whitefish Mountain Resort, the Big Mountain Nordic Trail Network offers 25km of nordic skiing trails, groomed daily, rolling through beautiful scenery. Access the trails from the new Big Mountain Trailhead at 3315 Big Mountain Road. After leaving the 1k access trail through old growth cedar trees, skiers can either head up Big Mountain for some steep and challenging trails or drop down into Haskill Basin for some more moderate (but still not flat!) terrain. A map and trail reports can be found here.
---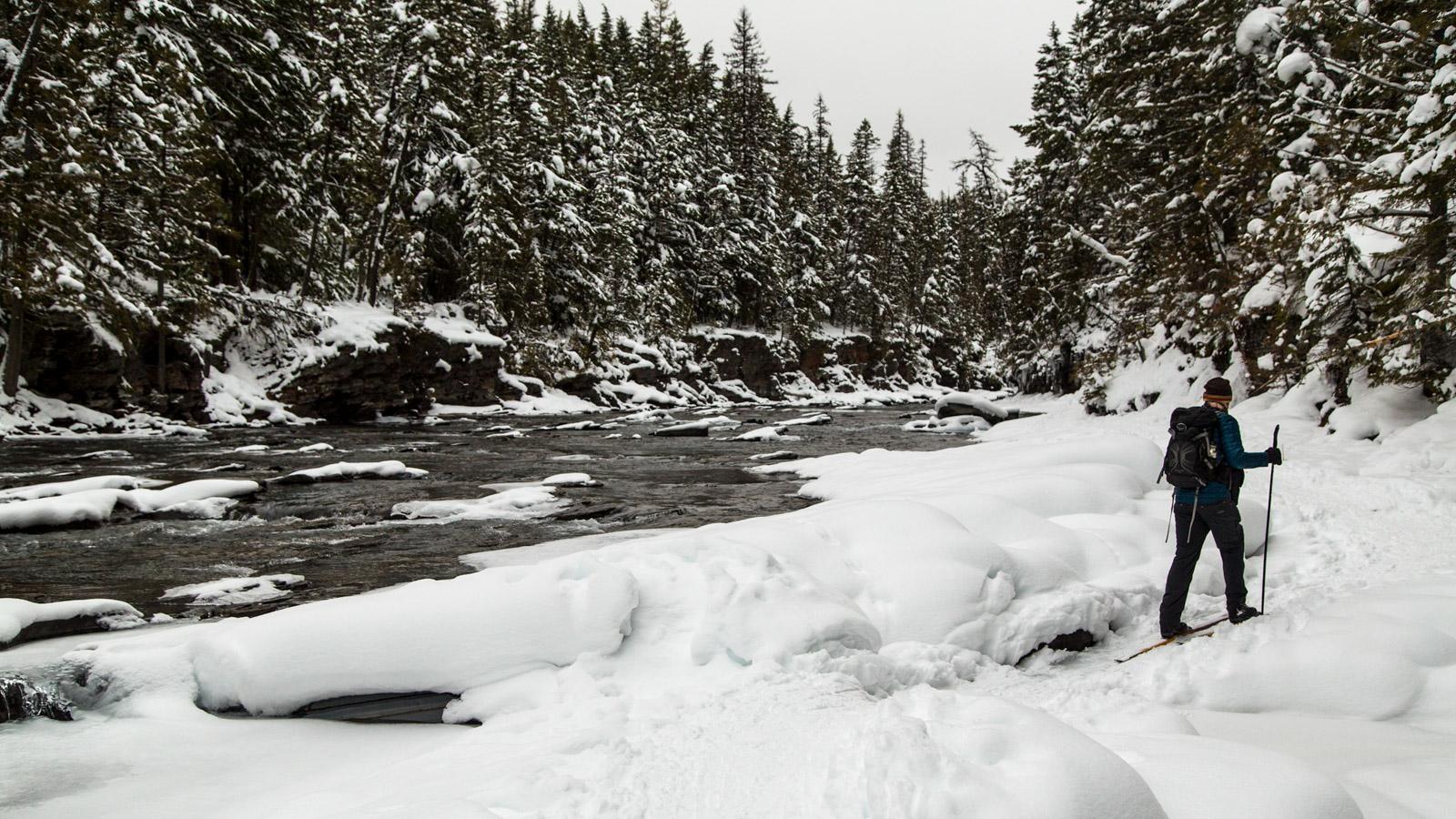 Glacier National Park
The Park's main roads become trails when the snow grows deep and the summer tourists have long gone home. Skiers and snowshoers have the run of the park all winter long on snow-covered trails, including the famous Going-to-the-Sun Road. Snowmobiling is prohibited within the park's boundaries, so quiet abounds. While you won't find the trails groomed, there are usually enough skiers around that you won't have to break trail. The skiing is free, but a park entrance pass is required. Whitefish Tours & Shuttle offers guided Glacier Park cross-country ski or snowshoe trips with knowledgeable guides who will take you to the best places, and also tell you about the environment around you. Information on trails and rules in Glacier National Park can be found here.
---
Round Meadow
Just 12 miles west of Whitefish you can find the Round Meadow Cross Country Ski Trails located on the Flathead National Forest. A more rustic experience can be expected at Round Meadow as compared to the regularly groomed Nordic centers in and around town, but you will be rewarded with nice wooded trails and serene silence. There are seven trail loops that total 12 miles of trails. The trails are groomed intermittently by the local national forest staff, but without the regularity of some of the more commercial Nordic centers. Dogs are also allowed on these trails, but make sure to pick up after your animal.
More info on the Round Meadow Trails can be found here and a trail map can be viewed here.
---
Other Trails in the Area
There are a variety of other trails in the area including Foys to Blacktail (at Herron Park), The Izzak Walton Inn, Blacktail Mountain Nordic, Bigfork Community Center, Dog Creek Lodge, and more. More info on these trail networks can be found here.
---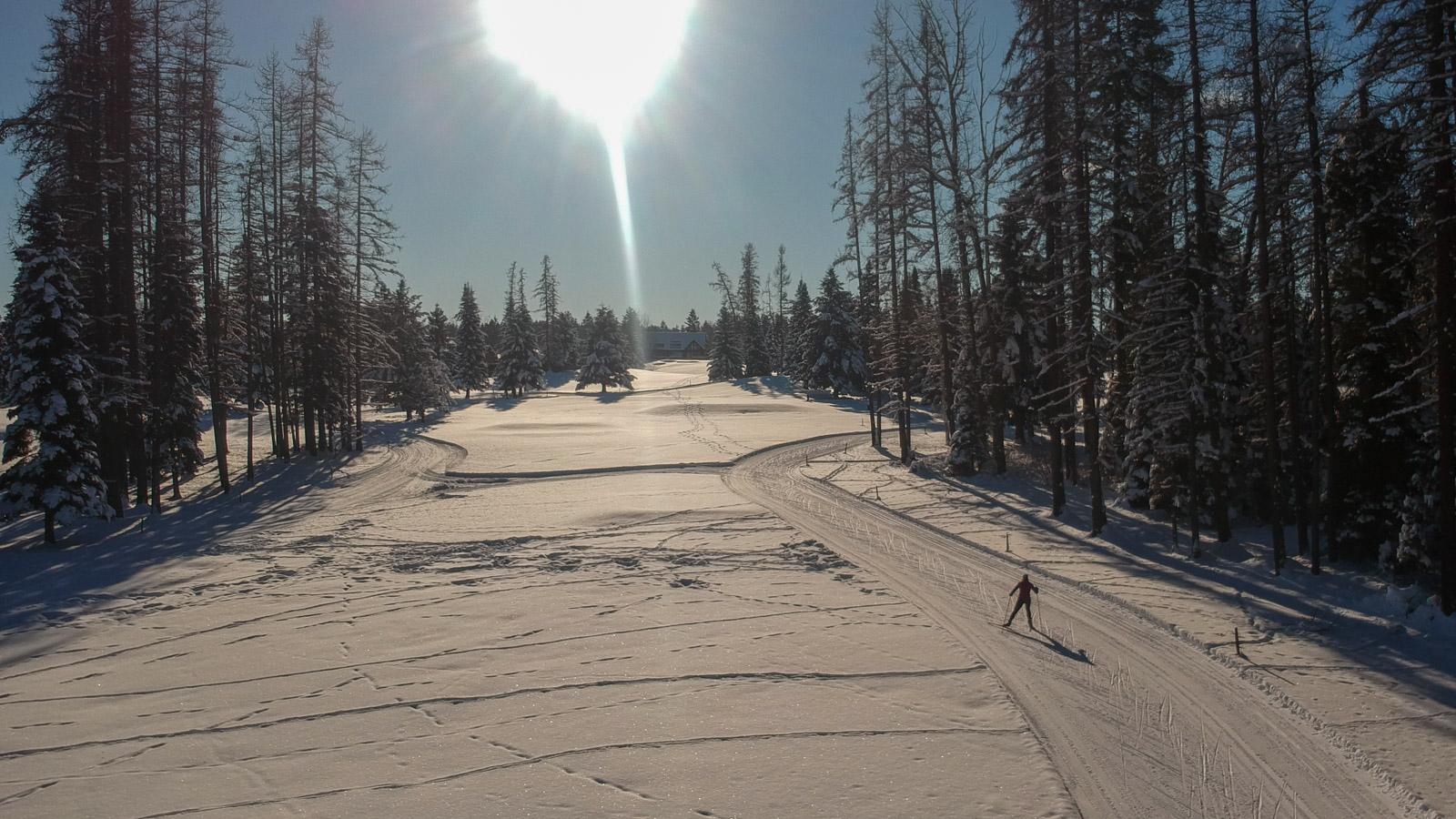 Ski Rentals and Gear
If you didn't bring your gear with you -- no problem. There are multiple locations in Whitefish to rent skis, buy skis or other gear, or get some local knowledge. Try Glacier Nordic Club Shop, Glacier Cyclery & Nordic and Sportsman & Ski Haus.