Cycling on The Camas Road in Glacier National Park
The Camas Road is a great alternative to Going-to-the-Sun Road for spring bike rides, especially during weekdays when access to GTTS Road is limited due to plow crews. Camas Road is also one of the earliest roads to be cleared of snow in Glacier National Park, making it a great early-spring option.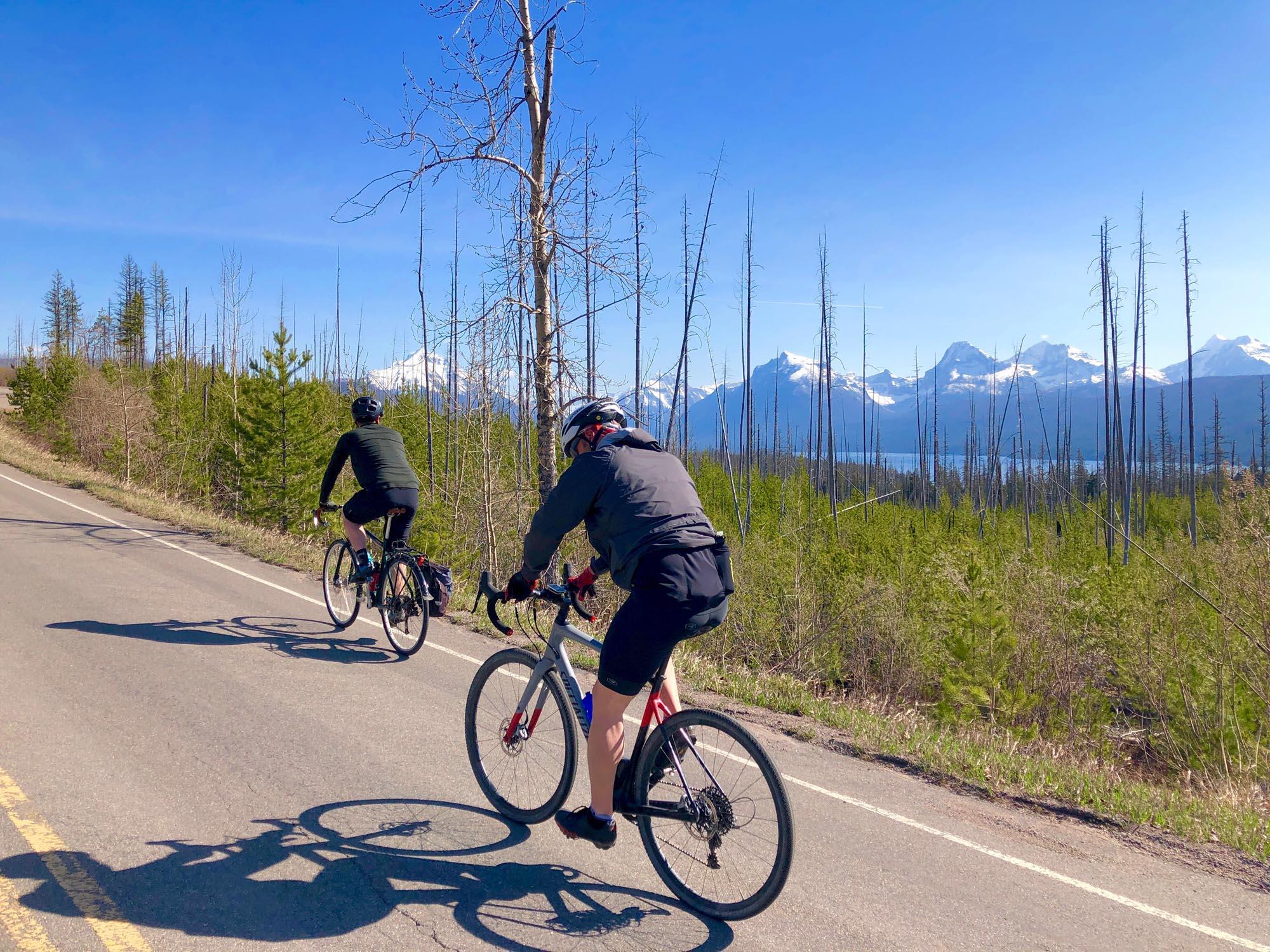 Every spring, cyclist flock to Glacier National Park to pedal the roads before the summer season crowds arrive. As an added bonus, many of the roads are open exclusively to foot and bicycle traffic (i.e. no motor vehicles), further enhancing the experience. Imagine pedaling open roads surrounded by towering mountain peaks, meandering streams, peaceful meadows and roaming wildlife. This is one of the best ways to truly experience everything that Glacier National Park has to offer.
To pedal this road, cyclist have two options for starting points.
Option A: The first, and most common, starting point option is to park at the Apgar Transit Center just inside the West Glacier entrance station. From here, follow the bike paths to Apgar and continue on to the Camas Road. From here to the Camas Creek Entrance Station and back is approximately 25 miles with 1,667 feet of climbing (these are estimates, actual mileage and elevation gain will vary depending on how far you decide to ride).
When starting your ride from this point, expect a mile or two of relatively flat pedaling transitioning into a climb as you pull away from Apgar and begin heading north. As you gain elevation, you'll notice an abundance of burned trees. These are remnants of the Robert Fire which burned 57,570 acres in the summer of 2003. Through this climb, you will be rewarded with incredible views of Lake McDonald and the surrounding peaks. Once you reach the top of the climb, the road continues on relatively flat with a few rolling hills until you begin descending toward the North Fork River. There are a number of rest areas along the road with information and incredible views. Once you reach the North Fork River, simply turn around and head back toward Apgar.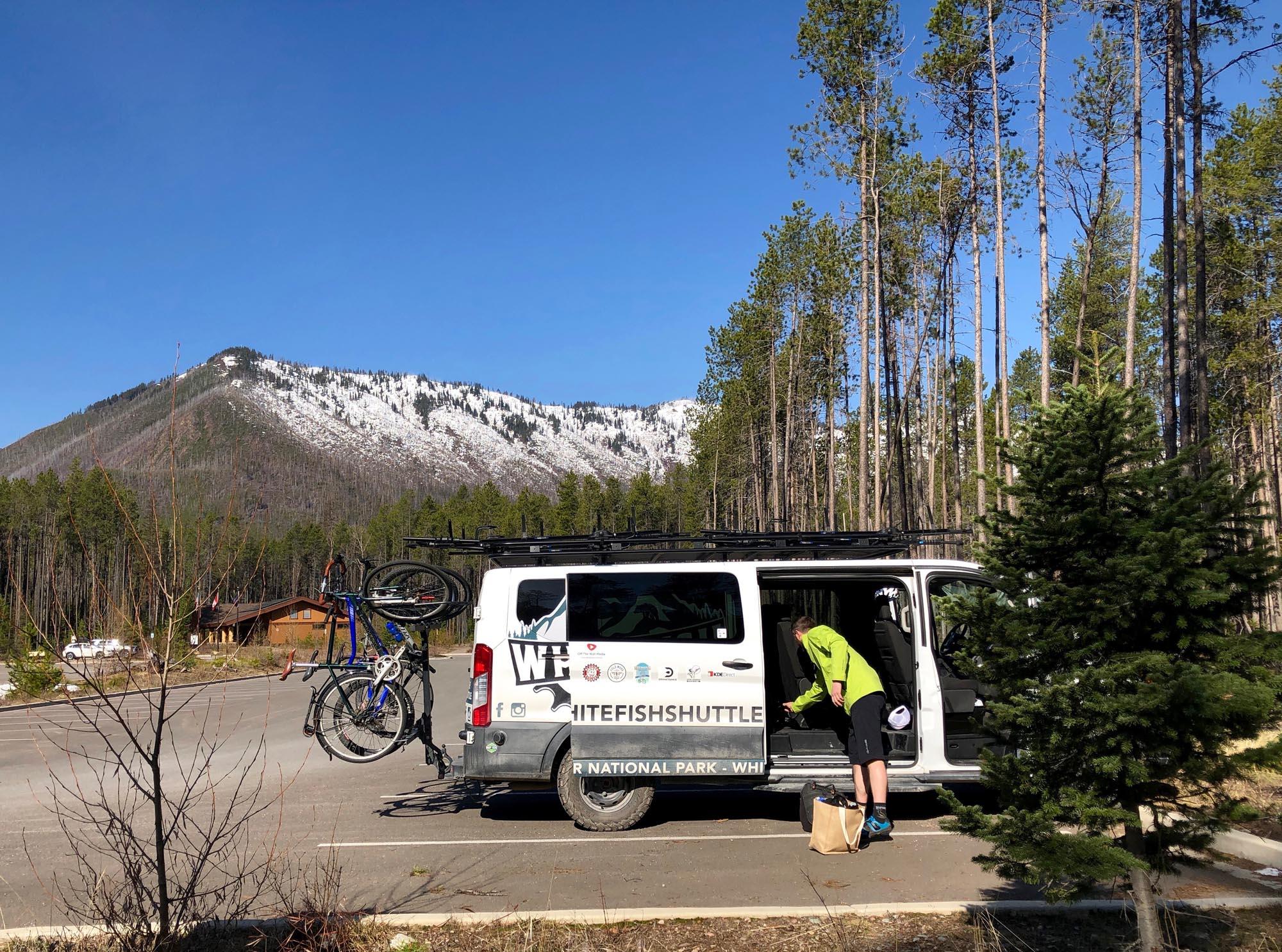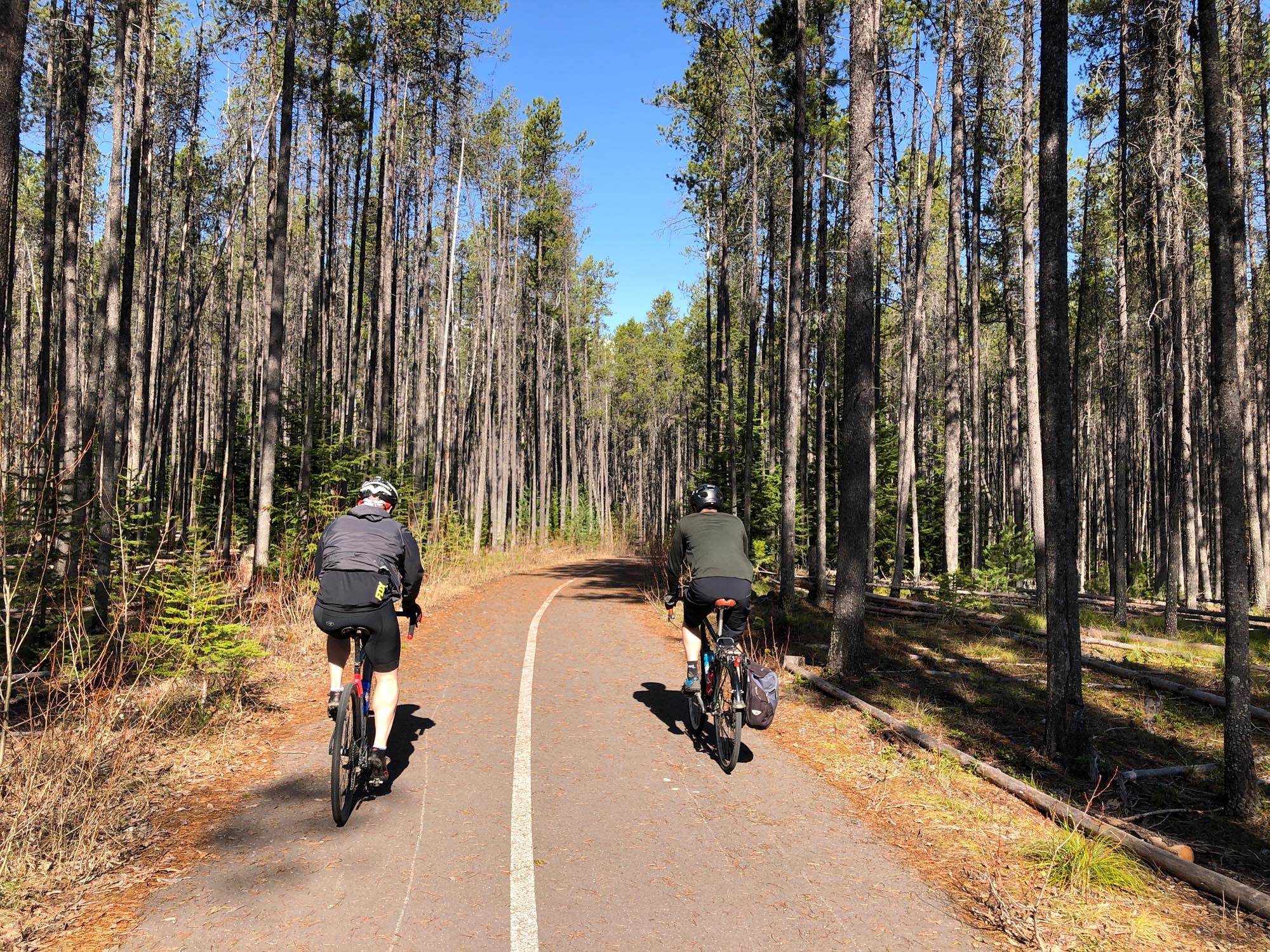 Option B: This is just the reverse of Option A. Start at the Camas Creek entrance station located about 20 miles north of Columbia Falls on the North Fork Road (MT Hwy 486). The North Fork Road is paved for the first 10 miles and then turns to gravel.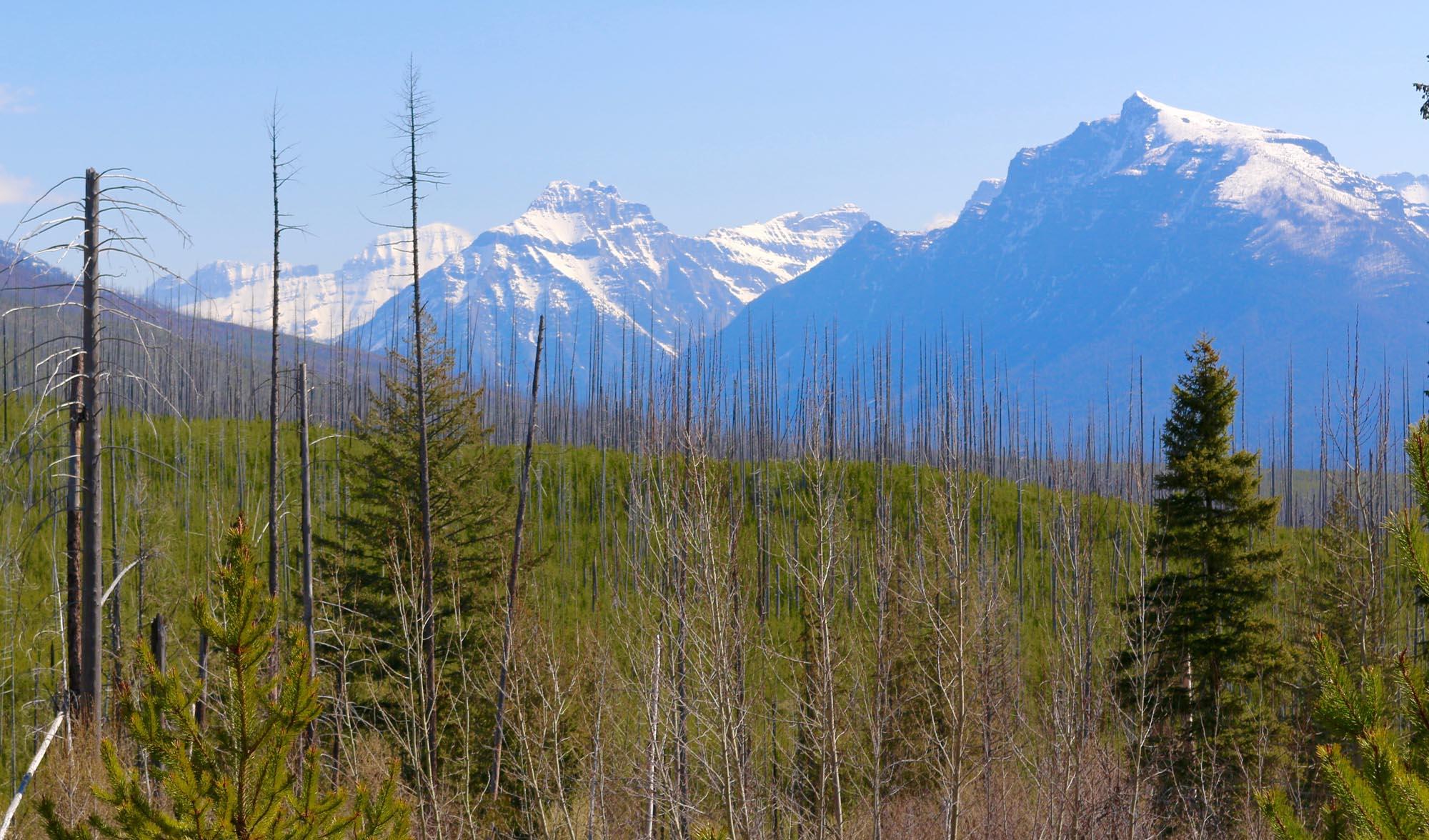 ---
Transportation
Whitefish Outfitters & Tours offers shuttles from Whitefish to Glacier National Park for hikers and bikers to access Going-to-the-Sun Road, the Apgar Transit Center and the Camas Road. This is an excellent option to avoid crowded parking lots as well as an easy way to get over to Glacier for historic Red Bus Tours that pick up at the Apgar Transit Center.
Bike Rentals
Bike rentals are available at the following Whitefish locations:
---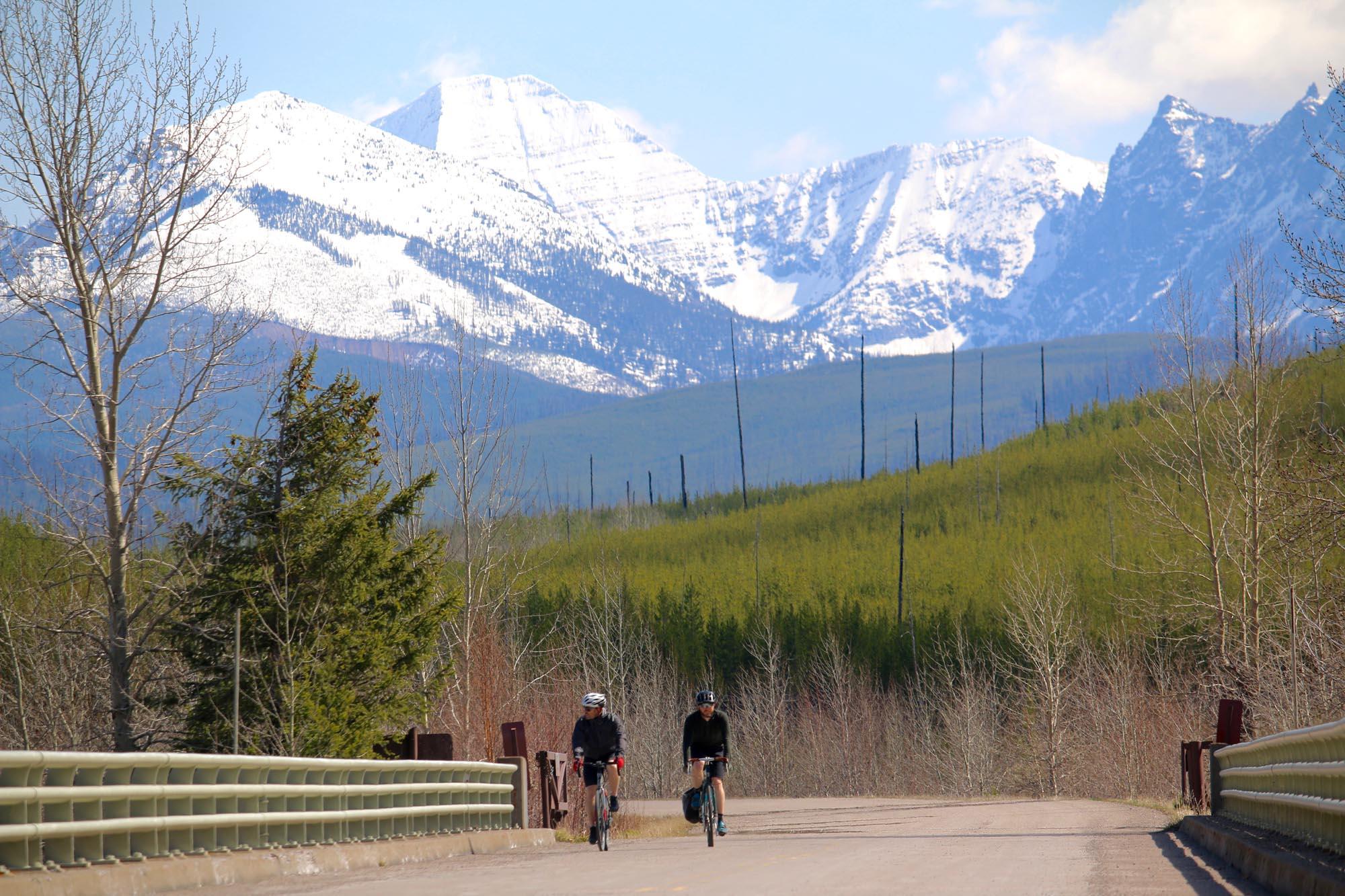 Other Details and Safety:
During this time of year pets are not permitted past the vehicle gates. Bring bear spray, water, and food and plan your day the same as you would if hiking a trail. Be on the lookout for wildlife and be aware that bicyclists and hikers are using the same roadway. If riding on roadways that are open to motor vehicles, always be aware of traffic.
Current weather conditions in Glacier National Park: https://www.nps.gov/applications/glac/dashboard/v1.3.1/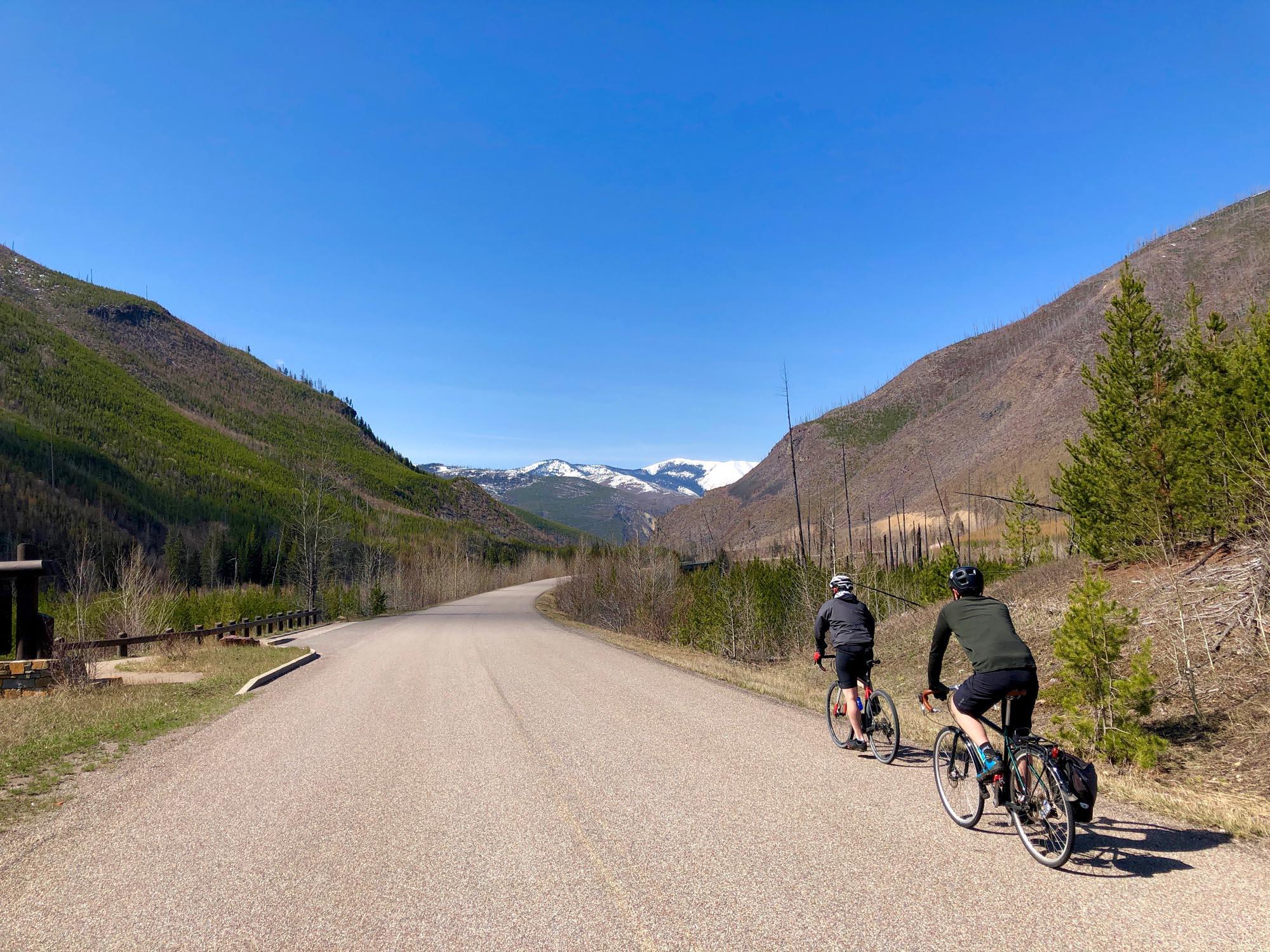 Here is a Strava Ride Log from a recent pedal on the road.