Clean, Careful, Connected: Whitefish Responds To COVID-19
Whitefish, Montana has always extended a heartfelt welcome to our guests. We all love this town and we want to keep it safe. But that can only happen if we all work together. In these challenging times, we ask our community and visitors to be a "Friend of the Fish" to help slow the spread of COVID-19. Please join us in these efforts and encourage individual responsibility as we work hard together to keep us all healthy, and to keep our doors open and our businesses thriving.
You can help be a "Friend Of The Fish" in these ways:
1. CLEAN - Make extra efforts in hand washing and sanitizing. Practice consistent stanitizing before and after entering public spaces.
2. CAREFUL - Mask up and practice 6-feet physical distancing in all public spaces, check your temperature daily and get tested if you are sick.
3. CONNECTED - Spread the word by posting about "Friend Of The Fish" on your own social media, encourage your friends and neighbors to sign up, and stay informed at WhitefishCovidCares.com
Thank you for keeping our community safe and resilient. And for showing respect for our fragile town.
---
FACE MASKS ARE REQUIRED IN WHITEFISH
While Governor Gianforte lifted the statewide mask mandate effective February 12, 2021, City of Whitefish Emergency Ordinance 21-01, requires the use of face covering.
Masks are REQUIRED IN WHITEFISH to be worn in all indoor spaces open to the public.
Masks are REQUIRED IN WHITEFISH to be worn for outdoor activities where social distancing is not possible or is not observed.
On January 13, 2021, Governor Gianforte issued Directive 2-2021 that repeals previously issued directives and is effective January 15, 2021, at 5 a.m.
The new statewide Directive repeals the limits on capacity and hours of operations for bars, restaurants, breweries, distilleries, and casinos. However, all businesses should continue to follow industry best practices and federal, state, and local regulations and guidance such as social distancing and sanitation protocols.
Gatherings are no longer limited to 25 individuals but should be managed to follow CDC social distancing guidelines.
---
SAFETY PROTOCOLS: WHITEFISH MOUNTAIN RESORT & GLACIER NATIONAL PARK
Whitefish Mountain Resort requires face coverings when in outside lines, and while loading and unloading the lift. Face coverings are required indoors in our public buildings. Face coverings can be removed while seated for eating and drinking purposes. They are required when riding the shuttle and S.N.O.W. Bus. Face coverings are required for ages 5 and up.
More information on additional steps Whitefish Mountain Resort is taking to keep residents, visitors and employees safe can be found here.
Glacier National Park is open and face masks are required in all buildings and on park lands when physical distance cannot be maintained. More information can be found here.
---
We're asking local citizens, business owners, and visitors to be a Friend of The Fish.
Take the pledge and commit to slowing the spread of COVID-19. Individuals will be entered into a drawing to win prizes each week.
In response to the health crisis occurring in Montana, faith leaders across the state are signing onto a pledge to prioritize remote worship and activities within their faith communities. Faith Leaders Can Sign Onto Montana Interfaith COVID Safety Pledge
---
BUSINESSES THAT HAVE TAKEN THE PLEDGE
Bailey's Bed 'n Bale, Bruce Boody Landscape Architect Inc., Bulldog Saloon & Grill, Duck Inn Lodge, Explore Whitefish (Whitefish Convention and Visitors Bureau), Garden Wall Inn, Glacier Medical Associates, HandWorks, Kandahar Lodge, LJ Communications, Inc., Merrill Lynch, Nelson's Ace Hardware, PTA Physical Therapy, Stumptown Art Studio, Stumptown Snowboards, Wasabi Sushi Bar and The Flat, Whitefish Pottery, Whitefish Quilts and Gifts, Whitefish Review
---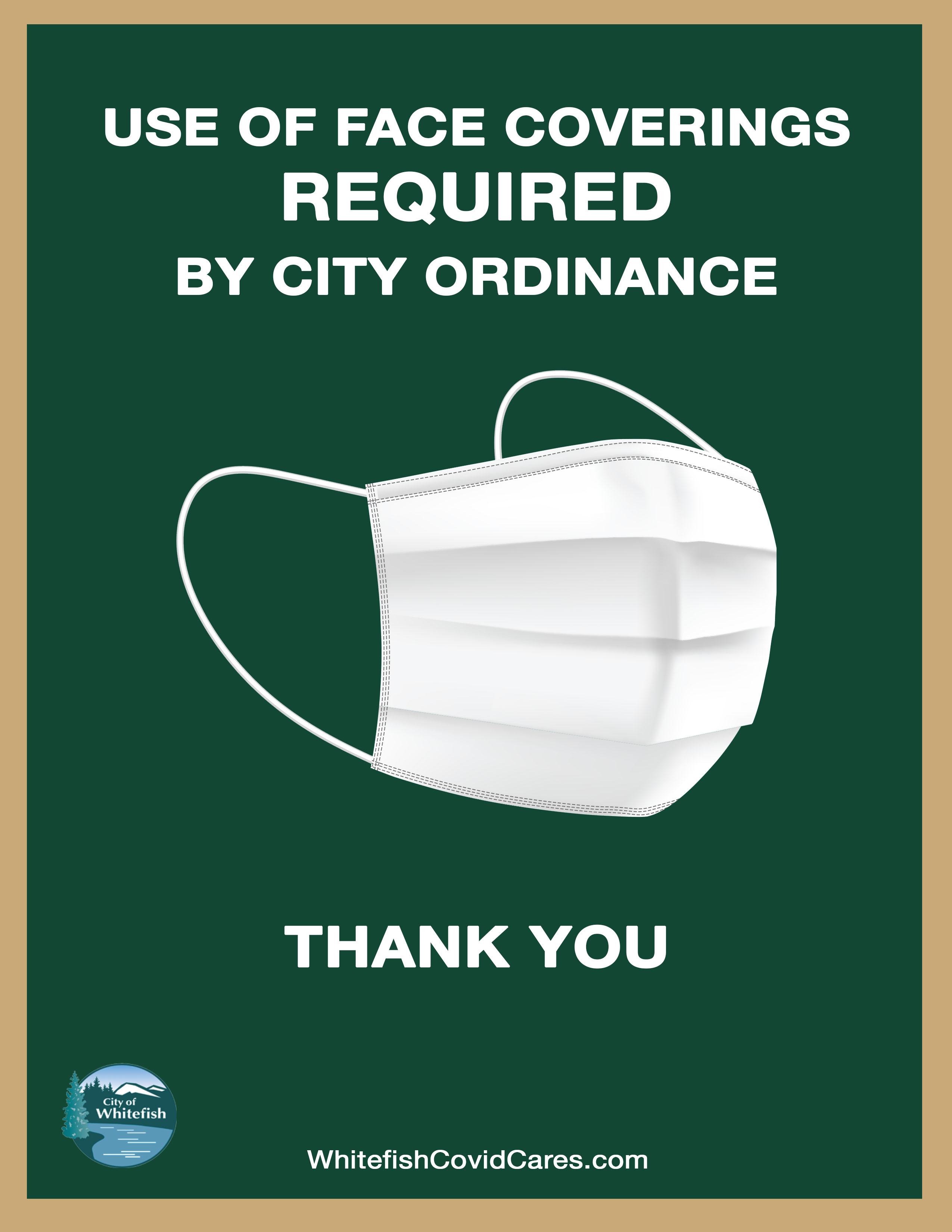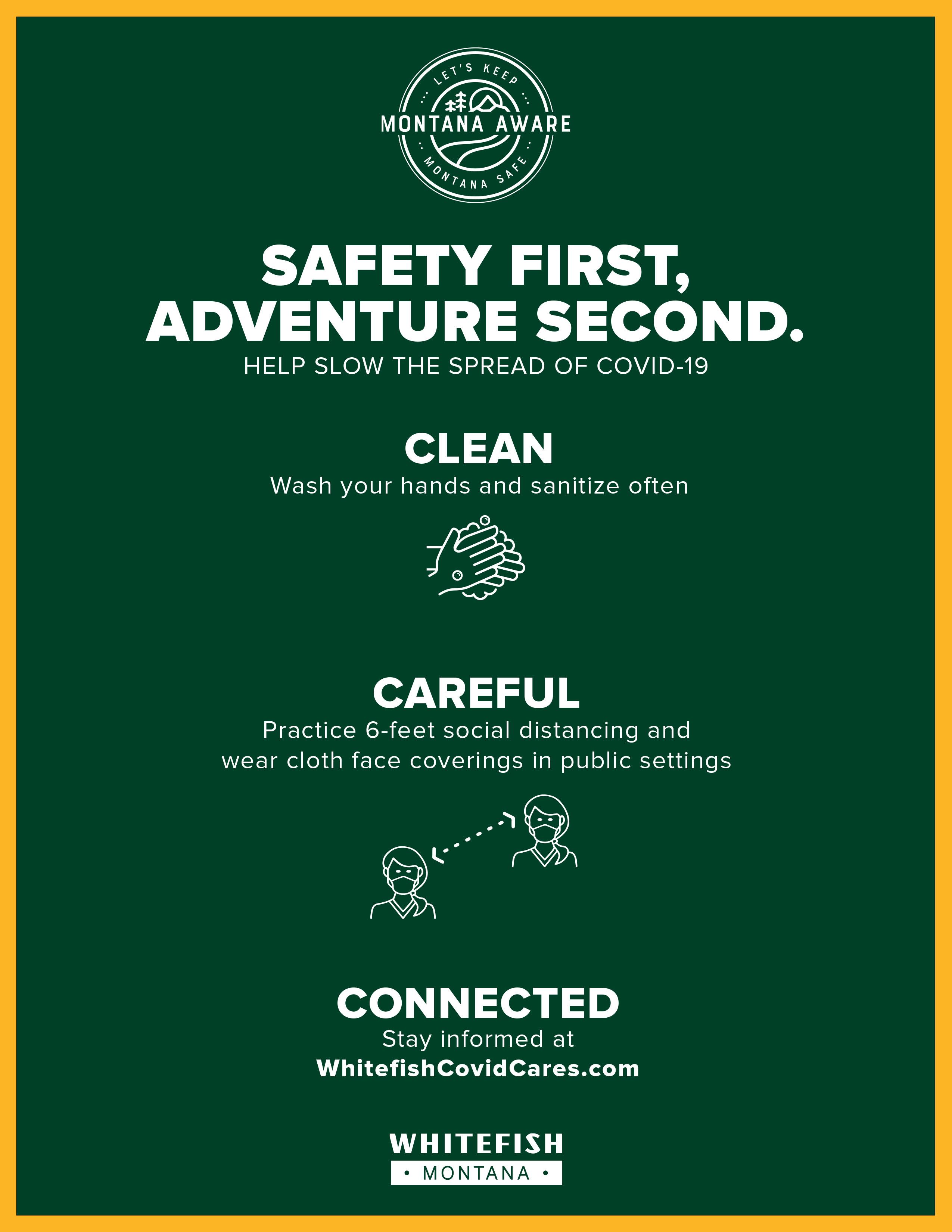 ---
The total number of confirmed COVID cases in Flathead County and other parts of Montana can be found here.
---
COVID-19 Testing
Testing information is available from North Valley Hospital/Kalispell Regional Medical Center. More info can be found here
---
COVID-19 Vaccine Distribution
Information on COVID-19 vaccine distribution from the Flathead County Health Department can be found here.
---
COVID-19 Face Coverings Compliant Form
If you believe a Whitefish City business is not following the City's COVID-19 Mandatory Face Coverings Ordinance, please complete this form.
---
Resources
Visitor Information
Frequently Asked Questions for Visitors
The City of Whitefish
North Valley Hospital / Kalispell Regional Medical Center
Flathead County Health Department
Flathead County COVID-19 Map
Glacier National Park
Whitefish Mountain Resort
Whitefish Mountain Resort: Commitment to Respect Video Series
Whitefish Covid Cares: Be A Friend Of The Fish Video Series
---
COVID Care Kit Downloadable Signage
---
Montana Aware Campaign
Downloadable Signage
---
Business Resources