Flood Updates and Water Level Information
Parts of Montana are currently experiencing unprecedented flooding, creating road and area closures because of rockslides, mudslides and flooded roadways. The governor of Montana declared a state of emergency on June 14, 2022, and currently all the entrances to Yellowstone National Park are closed. Yellowstone National Park's south loop reopened to the public on June 22 with a new interim visitor entry system.
As many visitors to Montana plan a park-to-park trip between Yellowstone and Glacier, we encourage travelers to keep apprised of current road conditions and closures.
In Whitefish, we are experiencing flooding around Glacier National Park and the Flathead river system. This may mean a rafting trip is canceled, a trail or campground is closed or an alternative driving route is required. We advise you to know before you go.
While we empathize with travelers whose plans have had to be altered, we humbly request you remember that many Montanans' homes and livelihoods have been devastatingly impacted by this. Please be kind and patient as you travel through our state.
For more information on area-specific updates, please visit the following:
7 Key Things to Know
Our rivers and streams are rocking right now. Be extra careful around moving bodies of water. If you plan to hit the water, go with an experienced guide and check with them on trip status beforehand.
It's best to check conditions before you head into the outdoors. Check the current road/trail status for Glacier National Park.
Vehicle reservations are required for the Camas Creek and West Glacier entrances for the the Going-to-the-Sun Road from 6 a.m. - 4 p.m. (Due to a much-needed utility project that is underway, there is no access on the west side prior to 6 a.m.)
No reservation is needed for the east entrance at St. Mary until the road is open in its entirety
Vehicle reservations are needed for the North Fork of Glacier National Park (Polebridge entrance) from 6 a.m. - 6 p.m. No reservation is needed to visit Polebridge.
While Glacier National Park is amazing, there are so many things to see and do outside the park's boundaries. More info can be found on the Explore Whitefish Homepage.
Boating on Whitefish Lake: Whitefish Lake is at record high water levels due to spring precipitation. We are asking boaters, especially wakeboard boats, to stay farther from shore to reduce erosion and impacts on the shoreline. Click on the headline for more information.
Glacier Country/Flathead County Area
TRAVEL ADVISORY: Flood warnings and advisories remain in effect across portions of the Flathead Valley. See below for resources and updates.
Resources/Update Sources:
Current National Weather Service Watches, Warnings, & Advisories
National Weather Service (Advanced Hydrologic Prediction Service)
Montana Disaster & Emergency Services - Situational Report
City of Whitefish: A self-serve sandbag station is at the corner of Railway Street and Columbia Avenue for those in need of them. Please bring a shovel!
Flathead County Sheriff's Office Facebook Page
USGS Current Conditions for Montana: Streamflow
Glacier National Park Current Conditions
Montana Fish, Wildlife, and Parks Restrictions & Closures
Flathead National Forest Alerts & Notices
Montana Office of Tourism: Traveler Update
Glacier Country Region Travel Updates
Best Practices When Communicating with Visitors re: Flooding
Whitefish Lake Boater Information
Flathead River Alliance: Three Folks of the Flathead River Alerts & Resources
Local Flathead County Media (also check their Facebook pages)
Daily Inter Lake
Flathead Beacon
Whitefish Pilot
Hungry Horse News
Montana Department of Transportation:
Montana Department of Transportation Interactive Map of Road Conditions
Montana Department of Transportation Alerts, Closures & Incidents
Flathead County Health Department:
Guide to Disinfecting Drinking Water after a Flood (Brochure)
Preparing Wells and Septic Systems for a Flood (Brochure)
---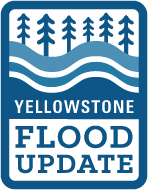 Yellowstone Area Flooding Updates
Visit Yellowstone Country Travel Updates
Yellowstone National Park